Veldkamp's Flowers®
Denver's Best Event Flowers & Decorations
We specialize in event flowers and decorations. Our event team is large enough to handle event flowers for any size activity or venue. We have decorated for all types of events such as; local chamber dinners, business conventions and conferences, political conventions and more. Fact is, over the past 53 years, Veldkamp's Flowers has handled some of Denver's most prestigious events. We provide table centerpieces, free standing potted arrangements, pedestal arrangements, chair decorations, corsages, boutonnieres and more.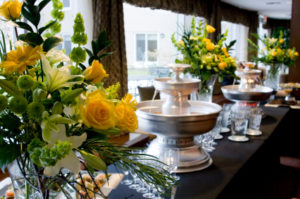 Flowers can absolutely make a huge difference in the type of impression your event makes on the participants. We take the time to really understand your event and the type of message you want to send, before we ever design the first floral arrangement. Once our event planning team has a complete understanding of your budget, your color scheme, the theme of the event and the impression you are hoping to make, they will put together the perfect blend of seasonal and exotics blooms and greenery, all arranged in a style and presented in the perfect vase or containers to match the mood you are trying to set.
We are large enough that we are able to buy our flowers direct from the growers. In planning for an event, we will order the precise variety and quantity of flowers needed to handle the event. We do encourage you to call and schedule a Free Consultation with one of our professional event planners, at a minimum of three weeks in advance of your event. If you can give us even more lead time that will help everyone involved. The larger the event, the more lead time you should try to provide. If you find yourself in a pinch and haven't planned ahead, we encourage you to contact us anyway as we will as always make every effort to help.